Next to the logistics building that Montea rents to VOG'Air, Techtronic Industries, Sage Part and SSP in Le Mesnil-Amelot near Charles de Gaulle airport in Paris, 100,000 bees have found housing over the last year. We have already filled almost 250 jars with the first Montea honey from these hives. Montea is fully focused on the preservation of biodiversity and is looking into ways to implementing bee housing on a larger scale.
Beehives nearby logistics buildings: a logical location
To also contribute to the protection of biodiversity, we put beehives in Le Mesnil-Amelot. This 'space for growth' to house bees was easy to find next to the logistics building. Not only will the worker bees not be disturbed by any neighbours, they will also find a wide variety of flowers close by.
To bring this project to a successful conclusion, we are working with Apiterra, a French organisation specialised in the placement and management of beehives near companies and in the city. The honey harvest is a great extra for our clients, partners and employees.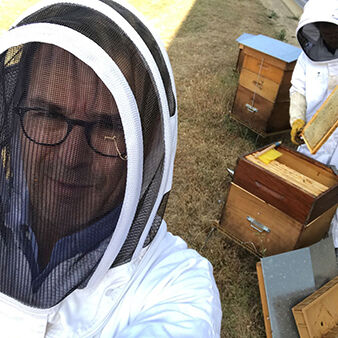 Everyone knows that bees are not doing well. Their numbers are noticeably decreasing. For years, the decline in the bee population has been a source of great concern, because bees are very important for us. For instance, more than 70% of the food production in Europe depends on bee pollination.
Various Montea buildings also have insect and bee hotels. The first Montea bee hotel opened its doors in 2017. For each new development, space is also provided for this kind of "residential real estate".
Bees in figures
7,000 hours are needed for the production of 500 g of honey
One worker bee produces 7g of honey in her life
Approximately 30,000 bees live in one beehive
The bees of a hive visit about 21 million flowers a day
The distance covered to produce 500g of honey = 1.5 x around the earth